It's time for the Spring/Summer Coffee Lovers Blog Hop and we are sponsoring some prizes! Make sure you check out the hop here: Coffee Lovers Blog Hop
For my card I thought it would be fun to make a window card where you could see the Coffee Cup Pop-up in the flat position and then open the card and watch it pop up. To do this, I needed a bottom fold card, so I created one with a foldover magnetic flap closure at the top. The card measures 4.5" x 5.75" in the closed position. Through the window you can see the coffee cup and the "I love you" portion of the greeting. The window and decorative circles were made using the Circles- Crosshatch die set. 
To open the card, lift the magnetic flap at the top of the card.
Once open, the coffee cup stands up. The large heart on the cup came from the Circle Charm Pop-up. The sleeve, stirrer stick, coffee beans and napkin come included in the Coffee Cup set.
The patterned papers are from Bo Bunny's "Stay Awhile" collection. The rubber stamp is from Hampton Art.
Learn more about the Coffee Cup Pop-up by watching this assembly video:

Karen Burniston die set are available at independent and online retailers worldwide as well as on our website. Here are some shopping links for the dies used on this project.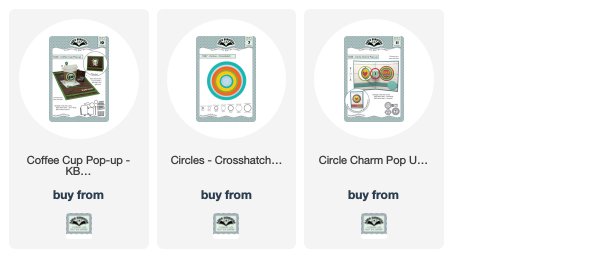 Enjoy hopping on the Coffee Lover's Blog Hop!