Welcome to our March 2018 Designer Challenge with a theme of Coffee & Cake. I challenged the team and our guest designer to use either the Coffee Cup Pop-up or the Cake Pop-up for a card.
For my card and video I couldn't decide which die to use, so I decided to combine them. The bottom two layers of the cake are used as a pedestal for the coffee cup - a completely reasonable celebration of such a magnificent beverage! Watch how I did it here:
In the closed position this card measures 5" x 6" and will mail easily in an A7 envelope. For the front decoration I mimicked the look of the pop-up, trimming pieces of the cake and scalloped trims and then topping with one of the Coffee Charms, styled in the same colors as the pop-up version. The spotted patterned paper is an old piece of Bella Blvd. paper called Thankful. The other papers were just scraps from my stash. 
Once open, the pop-up pedestal expands, revealing the coffee cup, which holds a gift card. The ribbons are stamped in bright colors, embossed with clear powder, and then trimmed into individual strips. 
The scalloped trim pieces that come included with the Cake Pop-up would normally act like frosting, but for this card I wanted to decorate the two tiers as platforms, so I turned the trim scalloped-side-up to act as a decorative molding instead. The Coffee Charms adorn the upper platform while the beans that come included with the Coffee Cup Pop-up decorate the lower platform.
Karen Burniston die sets are sold at many of your favorite local and online retailers worldwide. We are always looking for new retailer partners, so please ask for these products at your local store.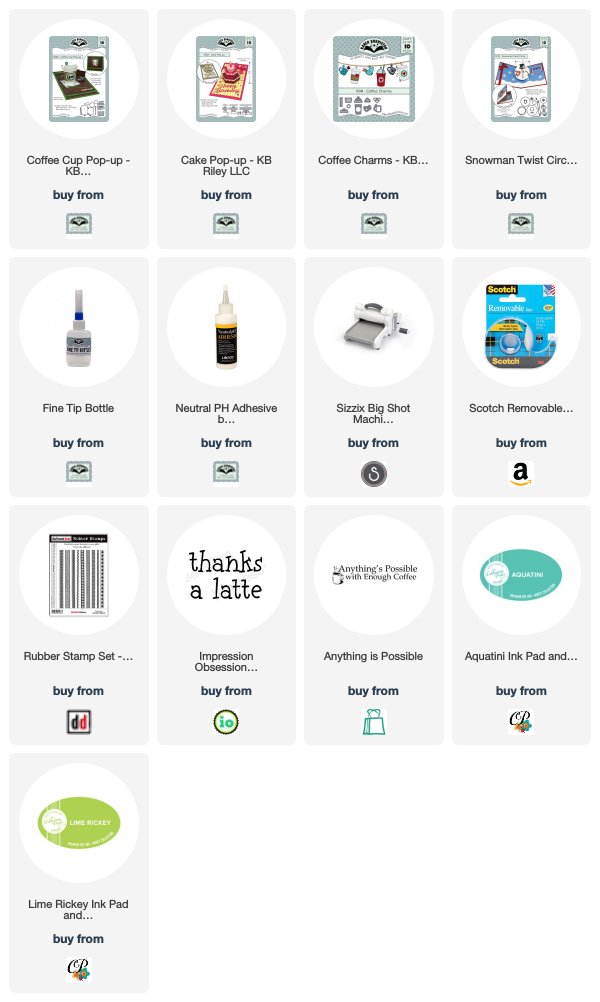 ---
As usual, the team really hit it out of the park with their cards this month. We also invited a guest designer to participate this month. In all cases you can click on the designer's name to open their blog post in a separate window. Those blog posts will give you more photos, information and supply lists for their particular cards. 

Coffee Cup Pop-up Cards
Karen Hasheck is joining the challenge this month as a guest designer. Her Coffee Cup pop-up card features a great color scheme with pops of royal blue. Click over to Karen's blog to see more of her work and find links to her YouTube videos. Karen also runs a children's charity challenge blog called Send a Smile 4 Kids to collect and distribute cards for hospitalized children. How amazing is that?!! We are thrilled that she was able to join us this month.
Karen Aicken chose such an exquisite color scheme for this card. I love her choice to use the Birthday Charms hat on the front of the cup. So lovely!
Fran Sabad also chose an amazing color scheme for this refreshing card. I love all the floral accents and the pretty elements.
Kelly Booth found a twenty-year-old logo stamp in her stash that was the absolute PERFECT choice for the Coffee Cup. Plus, the stamp is still available! Love the crisp colors to this happy card.
Shelly Hickox has such a way with textures. This masculine version of the Coffee Cup pop-up for her son's birthday is perfection. By the way - if you're looking to impress a man in your life with a handmade card - try a pop-up card!
Cake Pop-up Cards
Frances Byrne created this delightful cake card using stamped birds and bright fun colors. I predict that a lucky 8-year-old is going to be very impressed with this card!
Summer Hills-Painter was very clever with this idea to swap out the top tier of the cake for palm trees for a tropical-themed birthday card. Mermazing indeed!
Helen Cryer has such a talent for combining patterned papers. This beauty includes bunting on top of the cake and a floral surround. Gorgeous! 
How inspiring! Hopefully these ideas by the team have your mind buzzing with wonderful pop-up ideas. Join us next month, on Wednesday, April 4, 2018 for our next challenge, with a theme of HIP TO BE SQUARE - we will all be incorporating a square or squares into our projects.