Welcome to our February Designer Challenge with a theme of Castle!
I challenged the team to incorporate the new Castle Pop-up die set into a project of any theme.
For my project, I wanted to show an idea for using the Castle in a bottom-fold card with a semi-transparent cover so the castle is visible in the closed position and then expands into a 3D castle upon opening the card. I chose a sand castle birthday card but you could adapt this idea to any castle theme. Watch the video tutorial here (e-mail subscribers - click the title of the blog post to find the video - can't anyone solve this annoying problem for me? Why don't the videos play in the e-mails? Anyone? Anyone? Please?)
This card measures 4.5" square when closed and will mail easily in an A7 envelope for no additional postage. I used a double pane transparency window filled with sand. I like how the sandy window offers a hint of what's inside.
The top of the card features a foldover magnetic closure:
I used several other dies to decorate this card as a fun birthday party where the Sea Animals are playing in the castle.
Karen Burniston die sets are available at many independent and online craft stores throughout the world. As always, I encourage you to ask for them at your local stores. If you are sadly without that option, you can always shop on our website. Here are supply links for most everything used in the video: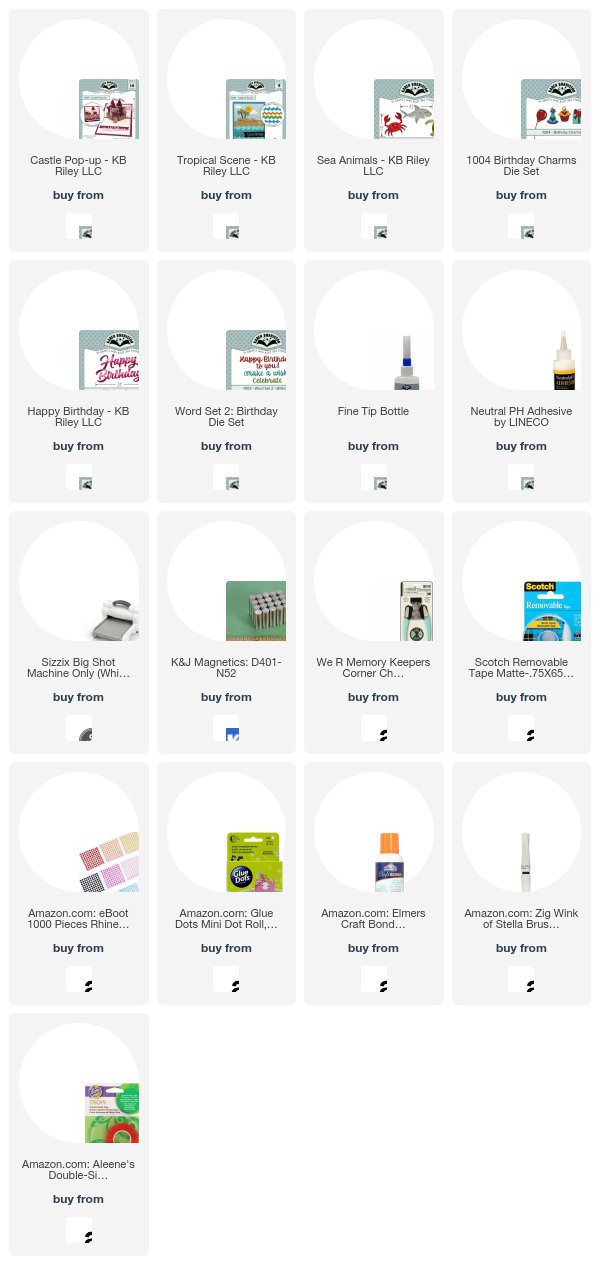 ---
But wait . . . there's more! Much, much more! Check out these seven amazing Castle creations by the Design Team. For each card, I encourage you to click the name of the Designer, which will open their blog post in a new window. You'll find more photos, supply lists, tips, tricks, etc. on their individual blog posts.
Shelly Hickox shows that castle pop-up cards aren't just for kids! Check out this stunning Queen for a Day castle card, complete with ivy growing on the walls. Shellypiece!
Fran Sabad made matching boy/girl gift boxes and tags with the Castle die set plus related royalty accessory dies and I am blown away! Who wouldn't love to get a gift in a box like this? Amazing!
Kelly Booth was very clever by using the heart Cake Trim die to make glasses for the dragon! I love that! As usual, her coloring skills are exquisite and I love her choice to incorporate some pink into this anniversary card. Pink is for everyone!
Karen Aicken created an undersea castle! Brilliant! She used the floating floor die that comes with the House and Fence and then decorated it with a lot of new dies. I love how she converted the mermaid into a merman!
Summer Hills-Painter has three little boys and created this fabulous "you slay me" card using the Castle on the Spinner Square Pop-up. I love the bright regal colors and how the knight spins out from behind the square as it opens.
Frances Byrne created this absolutely fabulous sand castle card featuring the mermaid on both sides of the card so it looks great from any angle. She mixed in some stamped greetings that fit the theme perfectly. I want to go hang out on this beach!
Helen Cryer made this princess castle and it is perfection! She has such a gift for mixing patterned papers and I love the addition of the path and the Outdoor Scene in the background. Beautiful!
The team did such a great job of showing the versatility of the Castle Pop-up die set. Join us next month on March 7, 2018 for our next Designer Challenge with a theme of Coffee and Cake. We can choose to feature either the Coffee Cup pop-up or the Cake pop-up. Doesn't that sound delicious?!
Happy Crafting!