Happy December and welcome to this month's Designer Challenge.
I challenged the team to make a project in the theme of "Trees, please!" where they were challenged to incorporate any of the tree dies into a holiday-themed card.
For my project, I decided to style the Christmas Tree Pop-up into a vintage tree covered in ribbons and trims. Here's the video tutorial:
The finished card measures 4.5" x 6" and can be mailed easily in an A7 envelope. The card front is styled as a simple lead-in using the same patterned papers and trims as the card's interior.
As the card opens, the tree starts to stand up. 
I went stash-diving and grabbed a variety of trims and ribbons in a color family of white/cream/beige to create a vintage feel to the tree. By covering the cardstock with double-sided adhesive before die cutting the tree parts, it was easy to add the ribbons to the sticky tree parts. I also added additional trims and pearls to the tree after assembling. The snowflake is cut from glitter paper using a die from the Snowman Twist Circle set.
For a greeting, I used Word Set 3 - Holiday to add  "Happy Christmas" to the card, curving the word "Christmas".
This technique is easily customizable based on the colors of trims chosen and even the theme. Wouldn't this make a pretty Valentine's tree? So many possibilities!
You can find Karen Burniston die sets at independent and online retailers throughout the world. We also sell on our website. Here are shopping links for the supplies used in the video.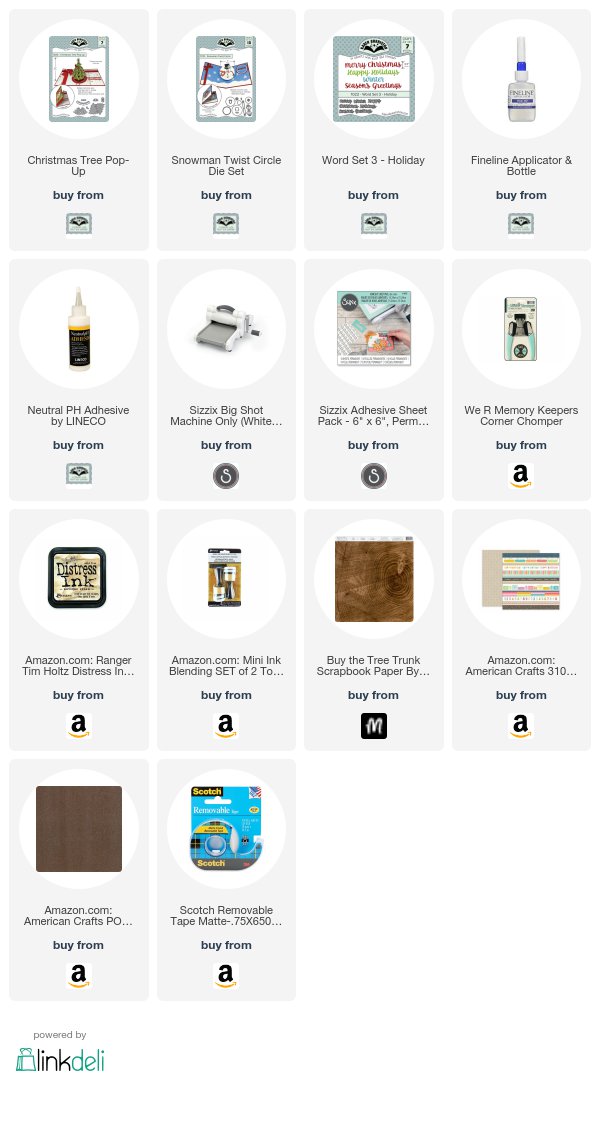 ---
Let's see what the talented Design Team created for the Trees, please! challenge. Check out their individual blog posts by clicking on their names, where you will find additional photos and supply lists for their projects.
Karen Aicken created a gorgeous card using the Twist Panel die set and decorating with trees from the Winter Charms set. She also used the Sleigh on the card front. This is so pretty!
Kelly Booth has such a talent for coloring. Check out her styling on the truck! This adorable scene is created with the Christmas Tree Pop-up, Nature Edges and a mixture of Word Sets. Amazing!
Helen Cryer created a custom tree skirt for her Christmas Tree Pop-up card featuring words wrapped around the skirt. How clever! I love the cheerful ornaments decorating her card.
Fran Sabad made this elegant white Christmas Tree pop-up with shimmery gold accents, including a gold beaded tree skirt. Breathtaking! 
Shelly Hickox created a gorgeous cabin in the woods scene with a triple-fold card that reveals two trees, a string of banners and a snowy cabin. How amazingly clever! 
Frances Byrne created a charming winter scene below her Christmas Tree in this cheerful card. The Sleigh fits all of the animal dies perfectly. I love the candy striped background and the gold accents! 
Amazing inspiration this month and especially for the Christmas Tree Pop-up die set, which can be styled so many ways. Join us next year (see what I did there?) on January 3, 2018 for our next Designer Challenge with a theme of "Birthday Banners" - we'll be making birthday cards with strings attached! (see what I did there?)
Season's Greetings!
---