My office is REALLY messy. Like, take the biggest craft supply hoarding mess you can envision and then triple it.
It's overwhelming to think about cleaning this office. There's just so much to go through. So much to purge. So much to organize.
Most of the time I opt for a snack instead.
But this week I did decide I would tackle just one corner. It took several hours, but I was able to purge a lot of old class materials and reclaim cabinet and drawer space for things that didn't have a home. Progress!
One of the things that I discovered in the mass was a partial Christmas Tree pop-up card. It was a green tree inside a plain white card with a red cardinal and a glittery star. Perfect! I decided to finish it as a warm-up card for next week's Designer Challenge, which has a theme of "Trees, Please!"
I started with the interior of the card. The tree was assembled in a folded white card, but I wanted to use a single-piece red backing card, so I carefully cut on the fold line of the white card to separate it into two white base pieces under the tree. I then trimmed down the outer edges of the white so I would have a nice border inside a standard A2 card (4.25" x 5.5" when folded) cut from red cardstock.
To further decorate the tree, I added glue to the bottom third of the tree and dumped silver confetti pieces over the glue. I also dotted glue randomly around the white card and added confetti to the background. In keeping with my sparkly theme, I added some rhinestones to the upper part of the tree. The greeting is two stacked layers from Word Set 3 - Holiday brushed with red ink and attached in a curved line.
As the card is closed the tree will pop down and lie flat.
For the card front, I used the larger tree charm from the Winter Charms die set and styled it with the same "confetti dip" as the pop-up tree. I used a stamp set from Darkroom Door (Christmas Reindeer) to add the script to the background - stamped in Versamark ink and then brushed with Pearl Ex powder. I used the Nature Edges die set to add the snow drifts and stamped Joy (same stamp set) on the bottom drift.
My finished card fits in a standard A2 envelope for mailing.
Learn the assembly of the Christmas Tree Pop-up die set by watching this video tutorial:
My die sets are available throughout the world at independent and online retailers. You can also find them on our website. Here are links to the items used on my card: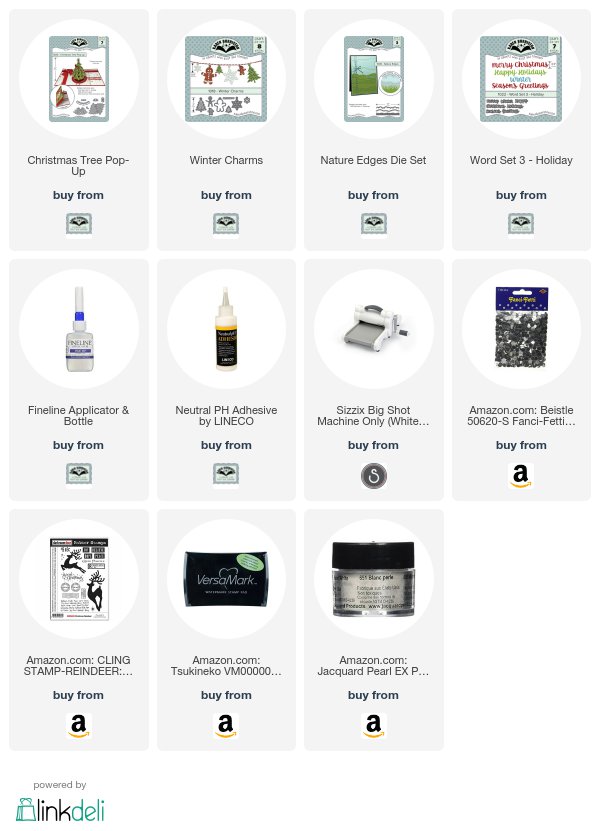 ---