Happy October!
For our Designer Challenge this month we are making Halloween Cards and you'll be very impressed with the cards from the team. Since I made a rather elaborate Halloween card last month for the Signature Style challenge, I wanted to teach a more simple card this month. 
Watch the video to learn how to make an easel card using the creepy hands die from the Halloween Elements die set as an easel stop.
Here are a couple of photos of the finished card.
The card measures 4.25" x 5.5" when closed and mails easily in an A2 envelope. I decorated my envelope with the same dies as used on the card.
I found the patterned paper in my stash - it's a Moxxie paper called "Midnight Dreary" from many years ago. Any patterned paper will work for this design, or it could be made with solid cardstocks or inked backgrounds.
Here are the supplies used for this card: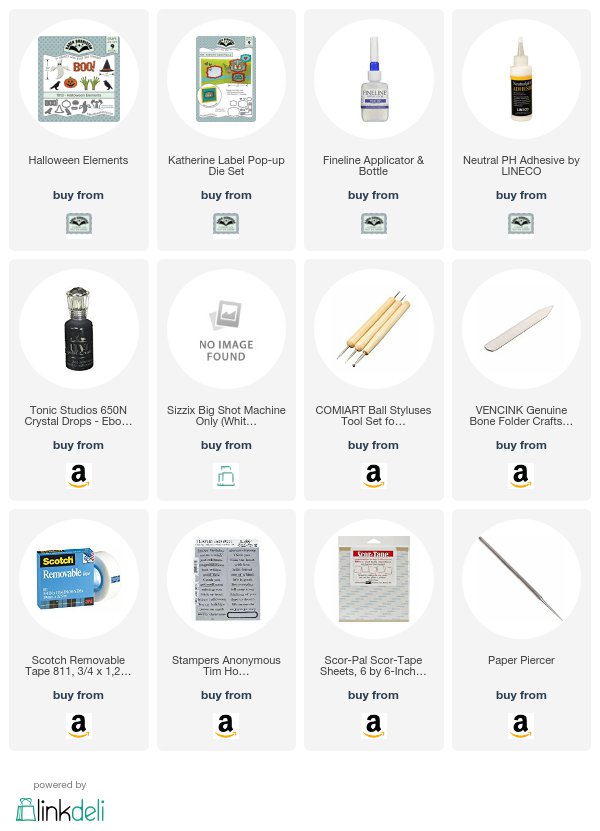 ---
Get ready for some fun and spooky inspiration by the design team. Click on each team member's name to go to her blog and see more photos and supply lists.
Shelly Hickox has step-by-step instructions on her blog for how she made the amazing elements in this Katherine Label window card with a custom background and fun flying ghosts.
Kelly Booth created this delightfully wicked haunted house scene and I love all the boo-tiful details!
Karen Aicken went all out for this fabulous Katherine Label window card with a round window made into a ghost wreath! How clever! 
Helen Cryer doesn't normally make Halloween cards but you wouldn't know it by seeing this fabulous Charm Accordion. I love how Helen combines patterns. 
Summer Hills-Painter created a Katherine Label window card and decorated it fabulously for Halloween. As the label lifts, the ghosts fly and the graveyard is revealed. Love it!
Fran Sabad filled a flower pot with ghosts and it's fabulous! She incorporated the iron fence from the House & Fence die to the scene. Fabulous!
Frances Byrne created a delightful scene on her Halloween Charm Accordion. I love how she incorporated the "to you" die from Word Set 3 to create a "Boo! to you!" greeting. Clever!
Well I hope you feel inspired to make a few Halloween cards this year. Join us back here on November 8, 2017 for our next Designer Challenge, called "Gingerbread" - the team will be incorporating gingerbread elements into their projects. What fun!
Happy Crafting,
EDITED TO ADD: Whoops! I completely forgot to include the information about last month's Secret Word Giveaway winner. Congratulations to Marty F. whose comment was chosen by random draw to win the Christmas Tree and Tree Pop-up die sets. 
Amazing samples from the Design Team and so fun to see everyone's personal style. Love the tree pop-up and how you can make more than one style of tree with it! So glad to see you with these talented ladies again :-)
If you'd like to be included in this month's drawing, make sure you're subscribed to the newsletter (big blue button in the left sidebar of this blog) so you'll receive the Secret Word.