Welcome to our first Designer Challenge with our new Design Team! Each month I issue a challenge to the Design Team and they post their challenge card on their own blogs the first Tuesday of each month. The next day (so the first Wednesday after the first Tuesday) you'll find a compilation blog post here on my blog along with a new card and video tutorial from me.
This month, since it is our first challenge, I issued a challenge for the team to make cards of any theme in their Signature Style. You'll find photos of their cards and links to their blog posts below. For my card, I wanted to  draw on my love of repurposing dies into new combinations. I also love making Halloween cards that are creepy. This card is a combination of two die sets - the Christmas Tree Pop-up (for the base and mechanism) and the Tree Pop-up (for the tree). 
Watch the video tutorial for this card:
For the front of the card I used an older rubber stamp from my stash (I would love to know who made this stamp - could it be Twenty-Two?) that features a line from The Raven.
As the card opens, the tree starts to pop-up.
Borrowing the mechanism from the Christmas Tree Pop-up to make other things pop-up is a great technique for creating custom standing pop-ups. What else can you make pop-up this way?
For my spooky tree, I decorated with black birds from the Halloween Elements die set plus the spiderweb from the Halloween Scene die set. A metal spider charm hangs from the tree.
The greeting is a combination of a die cut word "Happy" with a stamped word Halloween, cut out with a Katherine label die and embellished with a bone.
Here are supply links for this card: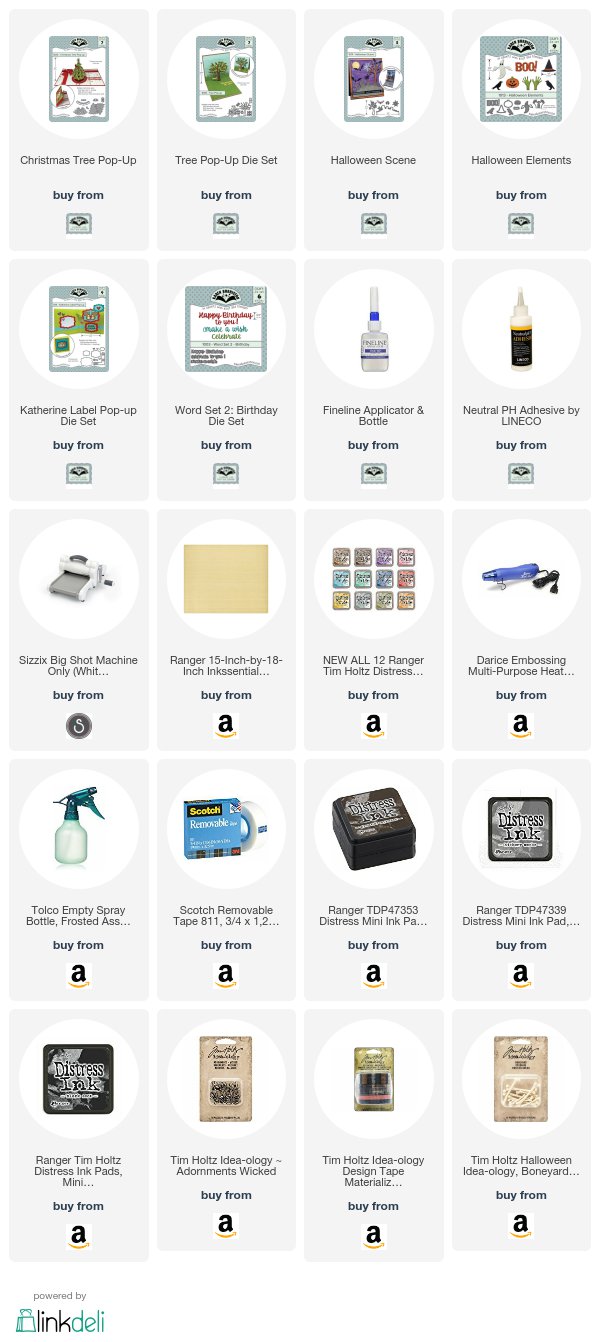 One of the things I mention in the video is how easily the Raven Tree Card can become an any season tree card by changing out the colors and styling. I put that challenge to the test and made this pretty version of the card in a Thank You theme.
---
Let's take a look at how the team interpreted the theme. If you click their names you will go to their individual blog posts, where you will find more photos and information about their cards, including supply lists.
Kelly Booth always incorporates beautiful colors into her cards. She also loves making her own backgrounds using inks and techniques. This Halloween card really shows off her style. It uses the floating floor die from the House & Fence die set plus the Halloween die sets.
Karen Aicken made this Snowman Twist Circle (minus snowman) beauty to show off her style, which often features patterned paper, shimmer and sparkle, and premade embellishments. Such unusual elegance in this Halloween card.
Fran Sabad loves to combine patterns and to color stamped images. She combined both those loves into this fun holiday card featuring the Sleigh Pop-up and a festive Riley the Moose stamp. 
Frances Byrne loves owls and also loves to combine the perfect patterned papers with the perfect stamps to complete cards for any theme. This one uses the Katherine Label to animate the adorable owl stamp. I love how she also incorporated the Gift Card Label.
Shelly Hickox has such a way with steampunk, artsy and edgy cards. This Twist Panel card featuring elements from the Halloween die sets is the perfect example. Notice her use of the witch hats on the patterned paper people. Clever!
Helen Cryer has returned! Helen took some time off to become a volunteer firefighter (talk about multi-talented!) and is now able to add crafting and blogging back into the mix. What a debut! This darling House & Fence Pop-up is the perfect illustration of Helen's detailed and charming style.
Summer Hills-Painter loves making flowers and it shows with this beautiful Flower Pot pop-up card. I love the classy color scheme! She also shows how well the Gift Card Label can be used for greetings. So pretty!
 Join us next month on October 4th, for our next challenge with a theme of "G-G-G-Ghost!" We'll be making Halloween cards. 
Happy Crafting!