Today is our monthly no-pressure just-for-fun challenge with the Paper Pros. The theme for this month is Halloween so I decided to make a 3-page Charm Accordion. I taught how to do this technique in a previous challenge HERE.
I found an older piece of striped Halloween paper in my stash and cut 6 paper pages to decorate both sides of the album. I trimmed out the center squares and used pinking shears along the edges of the paper. Normally the Charm Accordion uses a piece called the Charm Frame to glue between each of the pivoting squares, but for this assembly I decided instead to enlarge the size of the pivoting squares by turning them into labels. I attached the medium label from the Katherine Label pop-up to each of the pages. Each label had twine attached behind it so I was able to then tie the pages together to hinge them. The smaller label (green) is from the Gift Card Label set. 
The decorations for each page came from the Halloween Elements set, along with the flourish that comes included with the Charm Accordion. I accented all the black pieces with Nuvo Crystal drops to make them shiny, taking care on the "Boo!" greeting to leave some areas of the cardstock exposed for a distressed look. 
When folded up, the Charm Accordion is small and fun size - 3.25" x 4.25" and mails easily in an A2 envelope.
Make sure you check out the other awesome Halloween makes by the Paper Pros. Here are some links:
Karen Aicken - Bat Pop-up Card
Frances Byrne - Boo! Twist Circle Card
Kelly Booth - Halloween Gift Card Holder
Fran Sabad - Phantom Pop-up Card
Raquel Mason - Haunted House Pop-up Card
Sandy Diller - Spooky Graveyard Pop-up Card
Caz Counsell - Creepy Hands Pop-up Card
Shelly Hickox - Halloween Charm Accordion
Here are shopping links for the items used in my card: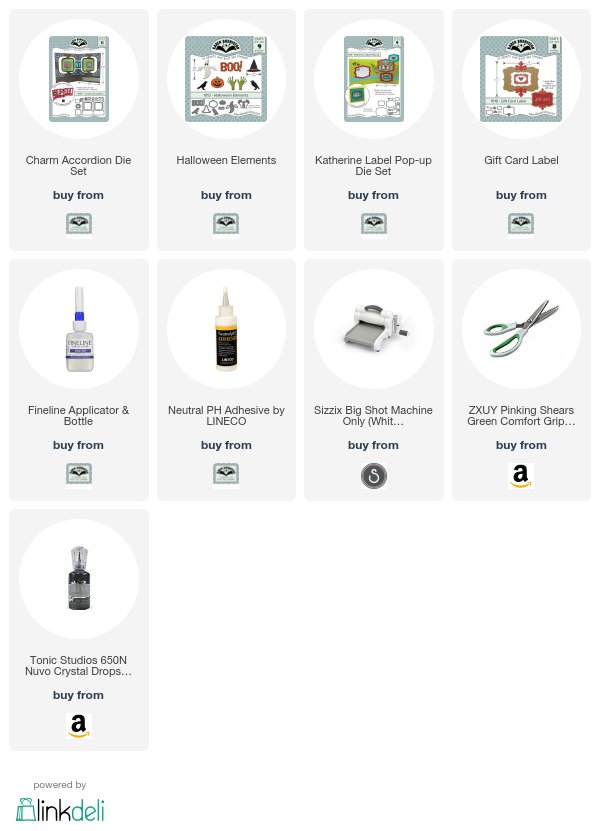 ---