Crawling out from under my rock for a quick update on where I'll be teaching in upcoming weeks.
Journey dies have shipped worldwide! They've been spotted at scrapbook stores everywhere and a couple of the styles are available at JoAnn, so keep an eye out.
I'm heading to Florida this weekend to teach Pop 'n Cuts card classes at Everything Scrapbook & Stamps. Come join me Saturday morning for free Pop 'n Cuts demos, followed by the Journey Pop 'n Cuts Card Class. I believe there are a couple of seats left:
Here's my usual disclaimer about my card classes - you don't have to love my color or theme choices. Everyone has a kid in their life who would love a Robot birthday card, but even if you don't, the important thing you learn in that card is how to use Movers & Shapers pieces with your Pop 'n Cuts. You learn how to create an extra shelf pop-up and how to attach the flagpole as a third pop-up dimension. Then you take those techniques home and make the card again with a heart instead of the star, and a flourish popping up majestically behind the label, and a bird flying on the flourish, and a sentiment about soaring. You see? It's all about techniques and ideas! 
You'll learn how to assemble the two new Pop 'n Cuts insert folds in this class, too - the Window inserts (We'll use the Butterfly) and the Chair. The Journey class is a great class for all levels and focuses on how to use the three features of Pop 'n Cuts - Simple, Interchangeable and Coordinated - to allow for quick and dynamic pop-up cards.
Sunday's class will be the Amped Up Pop 'n Cuts card class. This class focuses on add-on techniques to take your Pop 'n Cuts cards to the next level. Techniques include a floating floor, tripling the star, and using a mirror to reflect a word insert. The fourth card will be a quick and easy Father's Day chair card.
Once again, you don't have to love my choices - just the techniques. Students have changed the themes of these cards by not using the stamped greetings that are included in the kits and swapping them out later for different greetings. Bring your inks if you're an ink-lover. All of these cards look great "grunged up", too.
After Florida I'm home for a few days and then I head out to San Diego to teach the Journey Card Class at CKU San Diego.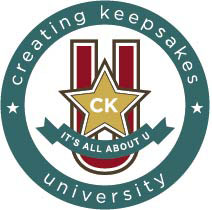 June 21-23rd is Ohio/Kentucky. Join me for Amped Up Pop 'n Cuts Cards at Scraps, Etc., KY on Friday June 21. Join me for Journey AND Amped Up Card Classes at Stamping Buddies in Cincinnati on Saturday, June 22nd, and Journey Cards at Scraps, Etc. OH on Sunday, June 23rd.
But wait, there's more!
June 28-29th is the CK Convention in Houston. I myself am not teaching at the event, but if I'm not curled up in my bed recovering from all the previous travel, I plan to head up there to help out in two classes that I designed for Kristi Coy, of Dollarscrapbooking.net 
Last year I designed Kristi's convention classes and they were so popular that she asked me for new versions for 2013. Cool Closures 2 features a different album than last year and three new closures. How to Give a Gift Card features a Pop 'n Cuts card, a hidden message card and a cool pillow-box pull tab thingie that pops the gift card out the other end. It's a fun class with some techniques you'll use again.
Because of all the travel in June/July, my next class at Scrapp'n Savvy will be the Journey cards in early August. I'm also working on a date for Craft Crossing, also in August, also Journey Cards.
Fall will find me in Colorado, Houston and North & South Carolina. Stay tuned for more details on those events.
But for now - I'd better get these kits finished up and into a suitcase. Bon Voyage!
---